Usually, women take extra care to beautify their face with make-cases because of the outfit –low-neck and short blouses — it is essential to take care of it. Agreed that scrubbing and cleaning the back is not easy which results in accumulation of layers of dirt on the back, but some measures are to be evolved to clean it. Particularly women with oily skin suffer more because the skin gets black patches and rashes due to dirt. This part becomes itchy and when scratched irritation increases and rashes spread, leaving permanent marks. Those suffering from dandruff in the hair, get it on the back also. It leaves blotches and since the area cannot be reached easily for cleaning, the entire back becomes dark.
Apart from this, other sore points are flabbiness due to general obesity and the growth of hair on the back. To counter these, effective measures, like massage, packs, bleaching, dieting and exercises can be taken.
Treatment
To heal rashes due to dandruff, use medicated soap for bathing. Also be careful while washing your hair so that the water containing dandruff does not trickle down the back. This is a precaution to counter the contagious attack of dandruff. Rub in some acne lotion at night and wear something loose to avoid itching. Before bath, massage with mustard oil, wait for 5-10 minutes and then scrub well. It will remove dirt. If soap is not effective to clean the back, make a paste with milk and maida, coat it on the back, leave for 10 minutes and wash off with warm water. This clears the skin of its darkness or of its bronze shade acquired due to exposure. Lemon is also effective. Cut a lemon into small pieces and rub them on the back. Let the juice dry. It will take 10 minutes. Wash off with cold water.
Some women have hair-growth on their back. These can be hidden by bleaching. Wash off with hot water, apply cold cream thereafter. This can be repeated twice a month. It will remove the dark patches and give a shine to the back by concealing or camouflaging unwanted hair. Use of face-pack on the back ensures a beautiful, soft and lustrous skin. Home made packs or ready made packs can prove more beneficial, if a few drops of hydrogen peroxide and mustard oil are mixed in it. Also, try besan mixed with rose water and milk. Rub it on face, neck and back. Let it dry for a while, wash off. It clears the skin.
Obesity leads to extra flesh on both sides of your spine. Fitting blouses tighten it further exposing flabby sagging flesh which looks ugly. This can be removed by a massage done by pressing the part with pressure. Balanced diet is also effective, so is swimming. While massaging, hold the extra flesh in a pinch and move it vigorously. Shape of the back depends upon your posture. If you leave it loose while sitting or bend forward letting your back lax, there is every likelihood that you may develop a hunch back. Sleep on a hard bed and walk straight. Much of the appeal of you personality depends on you back.
(Beautifull back)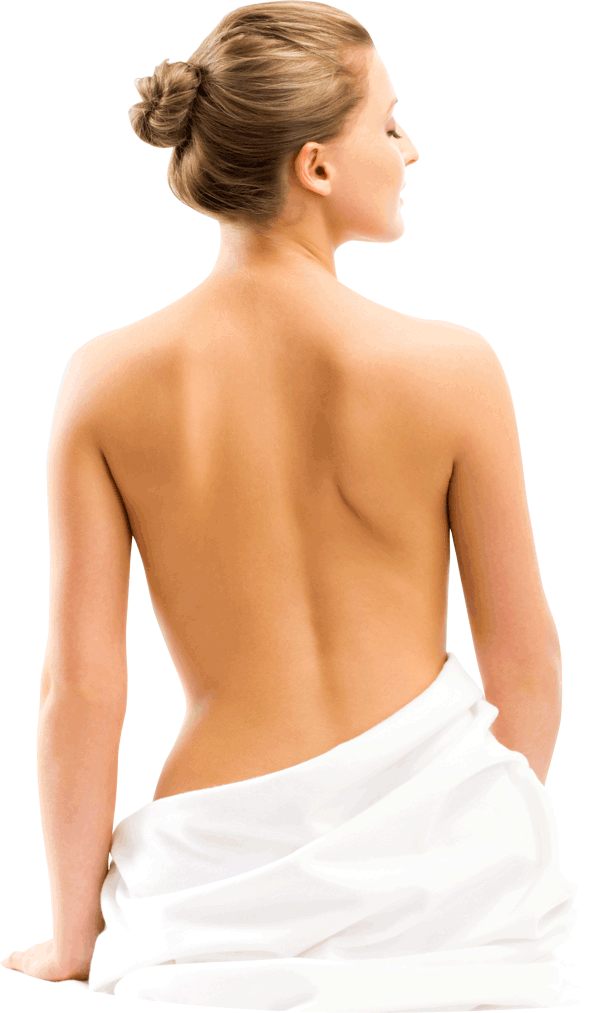 Exercises Tips :
Exercise 1 : Lie straight on the floor. Stretch legs and keep arms stretched to the sides. Now, lift up your right arm. Take it up slowly and place it on the floor above your head. Keep for a few seconds and bring it down slowly to it normal position. Do the same with the left arm. Repeat it for three minutes. This exercise will strengthen back muscles.
Exercise 2 : Sit on the floor on your knees like for namaz. Stretch your arms straight above your head. Bend down slowly and touch the floor with your fingers. Repeat daily for 10 – 15 times.
Exercise 3 : Lie down straight on the floor, stretch your arms straight, placing them near the sides of the knees. Lift your back as much as you can without moving your head, arms or legs. Repeat 10 times.
Exercise 4 : Sit straight on a plank (chawki), stretch legs straight. Stretch arms above your head and start bending forward slowly making a 45 degree angle. Without changing your position, try to take back your arms. Come into original position. Repeat 5 – 10 times. (Beautifull back)
Note : Exercises should be done into the morning before bathing and on an empty stomach.
To ascertain an even complexion use foundation on your back along with face and neck. Also use compact powder.
***